Many of our users wonder why a predesigned page is not available from the Content Panel in Artisan® the way other content, such as papers and embellishments, are. At some point, we have all clicked on "Content" in the Operations Panel to the right of our project page (Workspace), expanded our Content Selection Panel, and realized the kit we want to use is "missing." Where are our pages?
The predesigned pages you purchase from the FOREVER® Digital Art store are a different type of file than the other content you purchase. Papers and embellishments are single-image files, similar to a photograph. You place the entire paper or embellishment on the page in your project. You can change its color, size, etc. just like you can with a photograph that you place on the page, but it is still just one file. The predesigned page is a more complex file whose various "parts" can be changed individually. We can change the color of just a flower embellishment on the predesigned page. Or we can replace the background with a paper from an art kit – predesigned pages give us the opportunity to customize anything we want. Imagine if our photograph came in as layered elements like that – we could "delete" the person in the background who stepped into our picture so quickly!
Steps to add a predesigned page from an art kit to our project:
Open an existing project:
A. Click on the "Open an existing project or page" button and navigate to your project file OR
B. Click on the project in your "Recent Project List" at the bottom of the Welcome screen.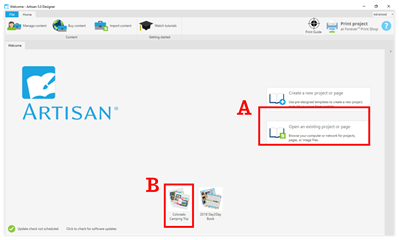 2. From the Home ribbon, click the "Add page" button to expand the drop-down menu.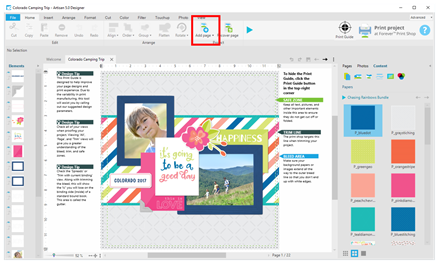 3. Choose "Using a template page from an art kit" in the drop-down menu.
4. The "Add a page to a project" window displays.
5. Expand the "Select a Theme" drop-down:
A. Click on the theme you want to use.
B. Click the "Select" button.
6. Under "Select a page type":
Click "All" to see all the designs.
7. Under "Select a template":
A. Click on the template you want to insert.
B. Click the "Add page" button.
8. The template you selected will be added at the end of your project.